Welcome to Day #5 of the Homesteading Summit!
Friday, November 4th
So glad you're joining us for Day #5…
We have another incredible lineup of speakers waiting for you today, with EVEN MORE opportunities for you to learn modern homesteading, backyard farming, and sustainable off-grid living from world-renowned experts!
35+ expert interviews, captured on video for your learning. Released daily, for 7 days!
Click any of the speaker links below to start watching! Today's speakers include:
Don't Forget… You Have 24 Hours to Watch These Interviews FREE.
Then Your Access EXPIRES, And We Release NEW Daily Videos at 9 a.m. EST tomorrow.
---
A Permaculture Approach to Entrepreneurship
Rick Sapio
Whether you're a 100% self-employed homesteader, or generating income with a small business on the side, learn the secrets to sustaining your business long-term.
The secret to freeing time and releasing stress: how adding layers of structure simplifies everything—and empowers EVERYONE involved to make faster, better decisions.
Attracting more success: how to refine and repeat what's already working for you.
About The Speaker: Rick Sapio is a lifelong entrepreneur who started his first business, a bicycle repair shop, after the death of his father, when he was just 13 years old. Since then he has founded more than 20 companies. His dream is to motivate people to learn and grow as passionate entrepreneurs, regardless of their age, their starting point, or their current position.
---
 13 Ways to Use Sunlight for Delicious, Efficient Homesteading
Paul Munsen
Harness the sun's energy to cook, bake, and roast food.
Reduce your utility bills while learning how to cook off grid.
Never worry about burning dinner again.
Naturally dehydrate fruits & vegetables using the sun.
About The Speaker: Paul Munsen is the president of Sun Ovens International. For the past 18 years, Paul has devoted his life to sharing fundamental Sun Oven Cooking techniques with people all over the world. Paul has been involved in solar cooking projects and taught solar cooking on five continents.
---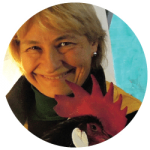 Chicken Whispering
Patricia Foreman
Chicken whispering 101: get inside the head of your chickens.
How to correctly pick up a chicken—so they feel safe and comfortable.
How to gently calm an agitated chicken.
12 sources of flock stress—audit your chicken coop!
About The Speaker: Patricia Foreman is a sustainable agricultural author, local foods activist, and popular speaker. For over 4 years, Pat was the co-host of the daily Chicken Whisperer Talk Show. She's kept poultry for 25+ years, with experience ranging from backyard flocks to owning and operating a small-scale farm with free range, organic layers, broilers and turkeys.
---

How to Build an On-Farm Smokehouse
Meredith Leigh
How to build a smokehouse for under $400.
The #1 smoking method that Leigh recommends for ease & health benefits.
Tips for preparing your meats for smoking.
The art (and science) of controlling temperature in your smokehouse.
About The Speaker: Meredith is a farmer, butcher, chef, and author of The Ethical Meat Handbook.  She has developed a farmer co-op, founded and catalyzed non-profit ventures, grown vegetables, flowers, and meats, owned and managed a retail butcher shop, and more.
---

The Lost Art: Yes! You Can Bake Bread
Laurie Neverman
How to save money by baking your own bread with simple, natural ingredients.
One EASY recipe that makes sandwich loafs, buns, or monkey bread.
The perfect loaf of bread: common mistakes to avoid.
How to store your homemade bread before or after baking for maximum freshness.
About The Speaker: Laurie Neverman is the creator of Common Sense Homesteading, one of the most popular homesteading sites on the Internet. Her gardening adventures include companion planting, wildcrafting (using weeds for food and medicine), vertical gardening, herbalism, and permaculture.
---
Don't Miss A Single Interview!
Don't Have Time To Watch All 35+ Presentations This Week?
Get Lifetime Access… And Never Miss A Single One!
Watch all 35+ presentations…
on your own schedule, ON DEMAND!
Plus… *unlock* access to all the BONUS GIFTS!
And… be entered to win over $4,415.98 in PRIZES when you claim
lifetime access before 8 p.m. PST on Thursday, Nov. 10th, 2016!